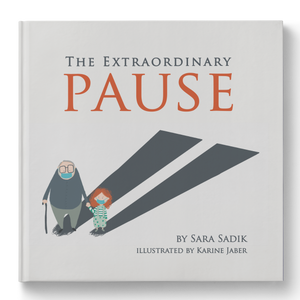 The Extraordinary Pause
Regular price $18.99 Sale
by Sara Sadik and illustrations by Karine Jaber

The Extraordinary Pause is a keepsake testament of the pandemic of 2020-2021 and a tribute to the simple and remarkable efforts people made in the face of the unexpected and unknown. Whether reflecting on what was lost or gained, this book is a wonderful tool for discussing the physical, mental, and emotional impact of this extraordinary event. The text is complemented with thoughtful and poignant illustrations with a minimal color palette and plenty to explore for the young audiences, as well as a few talking points to help kids reflect and remember this experience.
This book will have a place in a child's permanent collection of childhood favorites. It will be a place to return to as we reflect with our kids on the challenging period we experienced during the extraordinary pause and help us all to grapple with the social, physical, and mental parts of the journey.
AVAILABLE SEPTEMBER 15, 2021
Sara Sadik published her first book, "Finding Magic in Mommyhood" by Skyhorse Publishing in 2018.  Her personal website has over 3,000 subscribers, and her Instagram handle @bysarasadik has almost 20,000 followers. She is an avid speaker with around three events per month with topics ranging from 'The Impossible Act of Balance' and 'From Blog to Book' and is a reoccurring speaker at Emirates Literature Festival. She is available for live and virtual author events.
Karine Jaber is a Dubai-based graphic designer and illustrator with a plenitude of regional clients who appreciate her commitment and passion about the work she creates. Her art was recognized and short listed for The Sheikha Manal Young Artist Award 2011.  Her passion resides in illustrating books and creating strong characters. She is an influencer on Instagram. @this_little_individual.

 View teaser here
What people are saying:
KIRKUS REVIEWS: 
"A young child experiences the pandemic in an urban setting.
"With a minimal but meaningful text and naïve illustrations in a limited palette, the book focuses on an unnamed child who lives with their parents through the strange time when the virus, depicted as a bipedal, rusty-red monster, appears. "The world changed overnight. Schools were closed. Restaurants were emptied. Birthday parties were postponed.…And all the world's swings, seesaws and slides were abandoned." The main characters, who also include the child's grandfather, are White; other humans depicted are racially diverse. To signal the universality of the virus, small vignettes of different countries are included, with well-known monuments like the Statue of Liberty and Big Ben as well as, in a rather stereotypical shorthand, giraffes and camels. In some of the city scenes, signs in different languages are posted about stores and restaurants. As time goes on, after the new reality of "the extraordinary pause" settles in, eventually there is hope. "There was loneliness, but also connection. Light was starting to shine between the cracks." There is nothing specific about the illness itself or the worldwide deaths, but this short picture book speaks directly to young readers about the many life changes that happened as a result of Covid-19 in ways they will comprehend. Discussion questions at the book's close encourage reflection, and a QR code will take readers to a resource page for further engagement. (This book was reviewed digitally.)
"A child's-eye view of the pandemic that will spark conversations." (Picture book. 4-6)
***
"What a beautiful and important book!
Being a behavioral therapist, I have been seeing children totally confused about the world today, and this book is not only fun and helpful for children, but it's also a wonderful tool for parents, teachers and therapists to explain the situation in such a sweet matter!
Well done!!
I so recommend this book!!
" 
~Nadine T
*** 
"This book is so beautifully written and illustrated. The simple way the writer explains the pandemic is perfect for children and even made me quite emotional. I could not recommend this book enough!" ~Shaye Wilson 
***
"What a gem! Beautifully written and illustrated to tell a story that me and many other parents can relate to. It has surely been a roller coaster for all of us and reading this book made things feel so much better. Love it!"  ~Al Cha
***
"A fantastic children's book explaining the 2020 Lockdown in simple, caring terms. Great for younger children." ~Nicola
***
"This book is a great way to explain to young children what happens and continues to happen during the pandemic. While reading this book I became emotional. Although this is a children's book I enjoyed every word. It made me think about the pandemic in a new light; this book was able to highlight the positives that have occurred during this time." ~Sarah
***
"It was a hectic morning here and this book was just what we needed.

"The Extraordinary Pause" by Sara Sadik is a timely book about how the world has changed due to the pandemic we're all experiencing and a reminder to pause and notice one another.

Without getting into specifics about the virus itself, the book is told from a child's perspective and is easily relatable. The child and their parents live in a bustling city when all of a sudden an unwelcome virus arrives. "The virus," Sadik writes, "felt like a big old bully - mean, scary and unfair."

We all know what happens next.

Birthday parties are cancelled, hugs are outlawed, and playgrounds are abandoned. Life becomes unexpected and unknown.

Everyone is forced to change the way they live, the way they see things and you know what? It's not all bad. Behind the closed doors families find each other and slow down. There is loneliness, yes, but also connection.

Illustrator Karine Jaber's homey drawing compliment Sadik's sparse text with dark and light scenes to match the mood.

Coming from a Palestinian/Lebanese author and French/Lebanese illustrator, it was an interesting choice to portray the main character and their family as white with fair pink skin, but Jaber's pictures allude to the universality of COVID with shop signs in different languages, supporting characters with varying skintones and dress, and images of monuments and landmarks from around the world.

This book was sent to us by the publisher in exchange for an honest review."
                                                     ~Jojo's Book Club
***
"It is a lovely book and good for young children and old adults."
Karel Rose, Professor, Brooklyn College, School of Education, English Department, Women's Studies, Graduate Center, Macaulay Honors College, The City University of New York, Tow Distinguished Teacher Award, Milton Fisher Alumni Award
***
"Even as adults, we're don't fully understand the pause our world has taken. If we don't understand, how can our kids? Sara Sadik has written this book, The Extraordinary Pause. I highly recommend it for parents, grandparents, and teachers to read with the children you love."-Green Gables Book Reviews
The Extraordinary Pause will be released in mid-September, 2021, and I think this book will have a big impact on kids. I am so impressed by the way this book is written. It is focused on all of the changes that happened during the pandemic and why. I love that it talks about things important to kids-missing birthday parties, hugs, playing with friends, and more. And, it also talks about the changes families made, what we learned and gained through the pandemic. It's written by a mother of three, who wrote this book with the sudden changes her kids were going through in mind. Not only is it a great storyline but the illustrations are great! They are colorful and I think they will really kids follow along. Near the end of the book, there is a guide for discussion with your kids in this Pandemic keepsake book.
I highly recommend The Extraordinary Pause. It's being released in the US soon and releases are also being written in Spanish, Arabic, French, and German." ~Green Gables Book Reviews
***
You don't have to be an elementary teacher like me to have spent a lot of time thinking about the effects of the pandemic on children. The year of virtual learning (if they were lucky and not crammed into petri-dish classrooms at virus-hotspot schools), the masking, the social distancing, the separation from playmates and schoolmates — it was a lot for adults to absorb, much less children.

I don't know what I like more: Sara Sadik's thoughtful recounting of the global coronavirus pandemic or Karine Jaber's whimsical illustrations. This is a must for school or classroom libraries, both for now, in order to make sense of the events of 2020 and 2021, and for future generations of children, who will want to understand this worldwide shakeup. And to remember, even in the haste and struggle of "normal life," to not forget the smell of pancakes and how beautiful the color green can be. I love, love, love, love this book! The guided questions at the end are perfect for classroom use. ~Ivonne
***
The Extraordinary Pause is a simple, straightforward and strong book explaining the good and the bad of the global pandemic of 20-21. The line drawings with added color give the book an uncluttered feel that combines very well with the text. The sentences are short, the text is minimal on the pages but it covers a very difficult issue without being condescending or frightening. The pandemic is not referred to by any specific name, thus not limiting the scope of the subject to just the past year or two.

"The world changed overnight". Such a simple yet powerful statement. This is such an optimistic book. I will certainly be sharing with the children in my life. The discussion and further resources at the end of the book make it a great choice for counselors, teachers and parents. Thank you Sara Sadik.  ~Tammi
***
What a wonderful picture book to explain the social effects of the corona virus pandemic o young children. I adored every bit of it!

The illustrations are lovely, the language used is appropriate for the target audience and the message is on point! Well done.

I am going to pick up multiple copies to donate to our local elementary school and one to keep for myself! ~Marina
***
This book was simple, yet beautiful. The book aims to find the silver lining in the pandemic and can help explain to children what's happening and can help jump start conversations with children at home or in the classroom. It was a very touching book covering a crazy and uncertain time in our history. I enjoyed the simplistic text and the illustration style/colour scheme. ~Jane
***
Wow! I've read a few of the pandemic books and this is a MUST read. A beautiful book about our new world and how we had to slow down and started to see things again. The illustrations in this book are so beautiful. Highly recommend this book to read to your children.  ~Christine
***
I appreciated the set of questions at the end to help the child work through and discuss how the pandemic affected them personally. To me, this was the key to the entire book.

Kudos to the the author and illustrator for creating a book that can help children process what our world has gone through over the past several years. I am concerned with the possible long term effects that the pandemic will have on children. ~Sam
***
It's a beautifully written and illustrated depiction of the pandemic experience, and a very realistic but ultimately optimistic take, which is terrific, and I haven't seen anything quite like it yet, so I'm grateful to know it exists.  
~ Becca, Charlotte Mecklenburg Library
***
This sweet little picture book hit all the right notes. The Extraordinary pause takes a realistic but hopeful look at the day to day impact that the recent pandemic had on children's lives. This would be a fantastic conversation starter for this topic. I can see it being very useful in classroom and group counseling sessions. In fact, it even cones with a QR code for extra resources! I received an advance review copy for free, and I am leaving this review voluntarily. ~ BookDragon