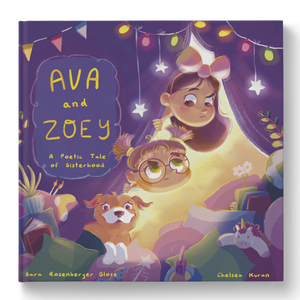 Ava and Zoey: A Poetic Tale of Sisterhood
Regular price $12.99 Sale
Ava and Zoey is a delightful and refreshing story of two very different sisters who prove that living that living in harmony is possibly despite their opposite personalities. The rhythmic structure combined with heartwarming illustrations will make this book a family favorite.
What people are saying: 

Ava & Zoey incapsulate what it means to love someone who is different and be stronger because of it. 
This light-hearted story of sisterly love and companionship shows the beauty available to all of us if we embrace our differences and see it as an opportunity to be our best selves. 

The story of Ava & Zoey reveal the power to love and adore one another in spite of their many differences. This is a relatable story for all who read it! 

This adorable duo exemplifies what it means to love and adore one another in a way that is only enriched by their differences! ~ Kelly K., pre-K teacher and mother of 3
I LOVED Ava and Zoey-- It is just delightful for all ages!  I had to laugh when Zoey is painting the couch with her nail polish, as this happens daily at my house (in one form or another).  I can picture my children thinking it is hilarious too.  Every page of Ava and Zoey is relatable.  This book does a wonderful job highlighting how different siblings can be.  I have one Ava and one Zoey, and while they can really get on each other's nerves at times, they are truly the best of friends.  I love the relevance, the warm, sunny illustrations, the flow of the poem, and how each sister is their own unique person.  This is a great message for kids, parents and grandparents alike.  In a world where we are constantly comparing, it is heartwarming to be reminded of how special our differences are.  I answer a lot of questions from my children on why their siblings or friends do the things they do, or like the things they like, and this will be a wonderful tool to help me explain that we are all different and that's what makes us great!  Kids are going to love finding the puppy on each page too!  What a gift!  Thank you for putting it out into the world. ~ Hannah M. HR director and mother of 2
I love the message of this book! Girls, and especially siblings, often compare themselves to others and feel like their characteristics and interests that make them different are flaws, things to change, or things to feel embarrassed about. This book is so empowering for young girls and siblings to know that it's a beautiful thing to be different and we should accept and celebrate each other just as we are without any changes!
This book is powerful for sisters, but also ALL children and their own friendships - especially girls. Girls tend to face this type of comparison culture as they grow up and this book is a true resource for siblings, sisters, girls, and all children in general as they grow up. In a time when social media is the ultimate comparison tool and thief of joy, our girls and children need to be hearing this message more than ever and as early as possible! 
The message of this book is so powerful and one I cannot wait to share with my own daughters as they grow up. I want them to be able to grow up recognizing their differences while supporting each other and celebrating their unique qualities. My girls and I will read this book early and often to build their self-love, confidence, and love and pride for one another!
The pages also flow together so well and the words are engaging and perfectly written! The illustration is beyond beautiful and offers the right amount of eye catching details without being overwhelming or taking away from the writing. This will be an engaging book for children of all ages and can be used in our homes, schools, and communities. ~ Kelsey B., school counselor and mother of two girls