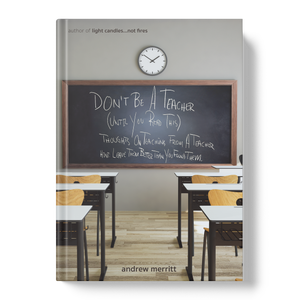 Don't Be a Teacher (Until You Read This): Thoughts on Teaching from a Teacher
Regular price $16.99 Sale
By Andrew Merritt 
"The Toughest Job You'll Ever Love", first coined by the Peace Corps, the same is true for teaching. If you dedicate your life to teaching and students, it will exhaust and exhilarate you. In 33 years of teaching, no two days and no two students have ever been the same. If you do it right, you will leave the students and profession better than you found them. If you are not committed to that ideal, do not be a teacher. 
Thoughts, experiences and advice from my teaching career in public schools and a juvenile prison. 
 What people are saying:
Andy Merritt is a man on a mission. His words serve to encourage new teachers and to inspire experienced teachers to be the kind of teachers that their students never forget. There is no question in my mind that he certainly left his profession better than he found it.     ~John Roberts retired teacher, Avon Central School
Don't be a teacher (Until you read this) should be required reading for education majors, new teachers, and teachers who may feel they've started to lose their way. It's also for parents and students who will get a better sense of the breadth and depth of the commitment of the very best teachers we know. 
Through deeply personal observations and experiences, Andy Merritt offers a candid view of the demands and rewards of doing the work for every student, every day. 

Being a teacher isn't something you do, it's who you are. And Andy Merritt IS a teacher, to his core.  ~Lori Bedell, Associate Teaching Professor,
Communication Arts and Sciences, Penn State University
Andy pours his heart into these pages and shares insights into the teaching world for which no education program can prepare you. If you know someone considering a career in education, gift this book.     ~Katrina deRoos Hatch, Reading specialist, Caledonia Mumford Middle/High School