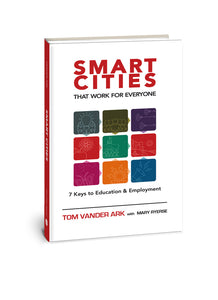 Smart Cities that Work for Everyone (Book and Ebook)
Regular price $16.99 Sale
PRAISE FOR SMART CITIES…
"It's clear; you can't have a great city without great schools. If you want to reduce crime and poverty, you need a good education system—it's the great equalizer, it's the passport, it's the civil rights issue of our time. - Kevin Johnson, Mayor of Sacramento
Everyone deserves a supported on-ramp to the innovation economy. That means equitable early learning, great K-12 options, affordable and relevant job training, and vibrant universities. - Adrian Fenty, former Mayor of Washington D.C.
 "There is strong momentum gathering around these uber-entrepreneurial, metro-regional approaches to incubating innovation in education, and Smart Cities provides a timely and practical roadmap for local leaders exploring strategies to do it well." - Andy Calkins, Next Generation Learning Challenges
ABOUT SMART CITIES… As the majority of the world's population becomes urban, cities must become centers of learning for young and old. Every person, organization and region needs to get smart—to skill up, learn more and build new capacities faster and cheaper than ever. In the long run, education is the economic development agenda. Innovative new tools and schools are making it possible for individuals, organizations, and cities to boost learning outcomes. Most learning innovations occur in ecosystems—and these unique environments begin with leadership and an innovation mindset. This combination of persistence, entrepreneurship and a collaborative focus on impact can be taught in every classroom and encouraged in every city. Smart Cities Includes forewords from Michele Cahill, Adrian Fenty, Kevin Johnson and contributions from over 50 thought leaders, including Sir Michael Barber, Karen Cator, Stacey Childress, John Danner, Michael Horn, Don Shalvey, and Joanne Weiss.
If you have purchased a paperback edition of this book and would like to receive your non-transferable digital version, which is packed with links to valuable resources, please send an email to gettingsmart@eifrigpublishing.com with your purchase information and we will send you the digital file.
You can also purchase the ebook separately ($4.99) by clicking HERE
About Tom Vander Ark
Tom Vander Ark is founder of Getting Smart, an education advocacy firm, and author of Getting Smart: How Digital Learning is Changing the World. Previously he was the first Executive Director of Education for the Bill & Melinda Gates Foundation and served as a public school superintendent in Washington State. Tom serves on many nonprofit boards including Charter Board Partners, iNACOL, and Imagination Foundation.