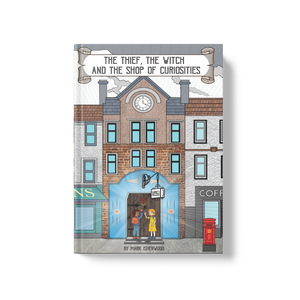 The Thief, the Witch and the Shop of Curiosities  
Regular price $12.99 Sale
by Mark Isherwood
Nothing much happens in Cheddarington.
Nothing much except for the time freezes, some witches, a mysterious shop that isn't a shop and a couple of centuries-old Italian gentlemen. Two friends, Peter and Erin, find themselves on a strange adventure that will forever change them and their families. 
REVIEWS:
Sharon Soph, Goodreads: "I really, really enjoyed this. It is quite unique, although I thought readers of J K Rowling, Jacqueline Wilson, and even fans of Enid Blyton's Faraway Tree would enjoy it. Lots of magic, good versus evil, fantasy and historical references to entice children to want to find out more. Chapters end leaving you wanting to read on, which is essential to entice young readers. It lends itself to further adventures, so hope there are more in the pipeline. The descriptions of scenes are beautiful, and this would make a fantastic film!" 
"When Peter wakes in the middle of the night, he is sure he can hear an intruder – but time has been frozen; no one else is aware of this and no one hears him speak to Peter. Erin has had to move from her home to stay with her eccentric aunt; could she be a witch? When Peter and Erin strike up a friendship, they find themselves in an adventure involving a magic shop, time travel and a villain trying to steal power.
This is an enjoyable – if old-fashioned adventure – which will attract competent young readers who have already read widely and have had some experience of early twentieth century authors. Though the sentences are uncomplicated without long qualifying clauses, the vocabulary and dialogue lack some of the immediacy of contemporary school language. However, the plot is intriguing and the concept of a magic shop which, like the Tardis, can appear and disappear in different times is an imaginative touch. The story may start slowly but the finale is full of action and jeopardy as time stops and doorways to other worlds open. The characters are believable, their actions and reactions consistent and credible. Even though Peter and Erin are young teenagers, they do not act alone; the author has made sure that there is adult intervention and involvement –  an interesting touch. Then there is the Thief and the Collector who represent on the one hand science and reason, on the other magic and imagination."