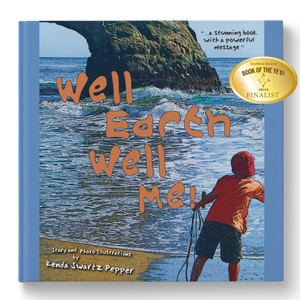 Well Earth Well Me
Regular price $18.99 Sale
By Kenda Swarz Pepper
Well Earth Well Me! has been created to empower small people to take little steps to make big changes.

What are some of the choices you can make to help create a well earth and a well you? There are many options, ideas, and solutions!
Well Earth Well Me! includes 15 tips for kids to maintain a healthy self and a healthy earth. But don't just stop there, the best solutions are created from within your heart!
What people are saying about Well Earth Well Me!
"I hope children across the globe read this book and realize they are empowered to make a difference, and I hope the adults in their lives support them on taking action – even little steps like the book suggests." ~Dr. Anteneh Roba, Physician, President of the International Fund for Africa
"I am the founder of my Green Club at school, and I think this book shows that even kids can help save the earth. I think this book is fun and will inspire other kids to do things to help the earth." ~Kaya D., Age 10, Washington
"As a veteran teacher of 38 years I find Well Earth Well Me! a delightful and appealing book for young readers. The illustrations and text will pull them into the story as it creates environmental awareness in their young worlds. This is a 'must have' for pre-school and elementary school children." ~Joan B. Coy, M.Ed. in Elementary Education
"Well Earth Well Me! offers parents and teachers a great tool to teach children about caring for the planet in a way that is joyful and never anxiety-provoking. It offers simple, doable activities that are good for the world and fun to do."    ~Lizzy Rockwell, Author and Illustrator of The Busy Body Book: A Kid's Guide to Fitness and Good Enough to Eat: A Kid's Guide to Food and Nutrition
"I believe that inspiring, empowering, and educating children in ways they can help the world and our earth is key to our future and even survival. I laud Kenda for creating a kid-friendly book with beautiful illustrations and ideas for children to help themselves and the earth."   ~Martha Nitzberg, Lead Interpretative Naturalist, Natural Bridges State Beach, CA 
"If you want to teach children how to be budding environmentalists and happy citizens of the world, this is the book for you. Not only will kids love Kenda's inventive illustrations and text, she will inspire the entire family."  ~Natalie Cherot, PhD, Sociologist, Publisher of Conducive Media
"Well Earth Well Me! received an enthusiastic "two thumbs up" from my first grade students!  They absolutely loved the vivid photo illustrations and melodic rhythm of the text.  This is a stunning book with a powerful message, and it sparked a wonderful conversation about how each of us, even young children, can make the world a better place."     ~Lisa Boutilier, First Grade Teacher, Maryland
"I love it!  It's fun, well written, nicely designed, and the pictures really add something with the thoughtful words.  This is definitely a book we would use in our Religious Education program."  ~Perry Montrose, R. E. Director of the Unitarian Church of Westport, Connecticut
"Kenda has captured the splendor of earth and the radiance of children in this lovely book.  The ability children have to make a difference for themselves, for one another, and for healing the earth, is a clear message that can inspire all of us to take action. As a mother and founder of a national nonprofit for children, I believe Well Earth Well Me! offers a joyful message of coexistence.  It's a treasure!"       ~Iris Rave Wedeking, Founder of Camp Kesem, California
 "The photo illustrations are stunning and lively and Kenda's message is perfect for supporting young people to care for the natural world and themselves. It is a lovely resource for parents and teachers and I look forward to sharing it with the children in my life!"   ~Jaime Becktel, Illustrator of My Mother is a Mountain
"I think this charming little book offers children the opportunity to recognize they are a voice and vision of hope for themselves and for planet earth."  ~Dr. Doris Arrington, A.T.R.-BC, HLM, Psychologist, Author and Educator