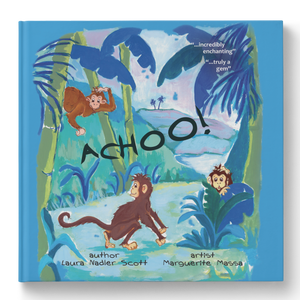 ACHOO!
Regular price $18.99 Sale
By Laura Nadler Scott Schaefer
When the monkeys wake up on the Island of Blue
to the startling sound of an unusual "Achoo,"
Mayor Munkin tries hard to keep down the sneezing,
but the results he is getting are not very pleasing.
Will he take some advice before all monkeys get sick
when his other good options just don't do the trick?
Is the answer so simple as a sweet smelling treat
that wise monkey Mubby wants to give them to eat?
Sneeze along with the monkeys on this infectiousy delightful tale.


What people are saying about ACHOO!
"A lovely story, with incredibly enchanting illustrations."
Joyce Fishman, Chief of Ed. Services, Northside Center for Child Development, NY
"This adorable story beautifully illustrates that everyone's voice is important. I loved it!"
Nadeen Silverstein, Children's Director, Rosenthal JCC of Northern Westchester, NY
"Achoo! Just like a sneeze, this book really grabs your attention! As a reading specialist, I admire the rhyme and rhythm of this delightful tale. As a parent, it's bound to become a favorite for bedtime sharing. It is, simply put, a fun read. Children really do love monkeys! Achoo! is truly a gem!"
Sherry Lee Clark, Early Childhood and Reading Specialist, PA
"Achoo! will appeal to any child who has ever sneezed! The easy, lilting style of the narrative and the repetitive achoos and shoo, shoo, shoos, not only appeal to children, they also help them to begin to recognize sounds, an essential component to emergent literacy. It is a book to be read over and over, especially when our little ones have those stuffy noses."
Phylis Shulman, Assistant Principal, Riverdale Kingsbridge Academy, NY
Book by Laura Scott Schaefer: