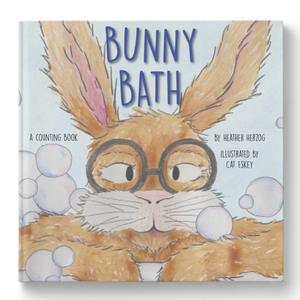 Bunny Bath: A Counting Book
Regular price $18.99 Sale
Join the bunny fun as 7 little bunnies get ready for bed. Watch them create counting chaos as they hop in the tub one by one.

Bunny Bath's whimsical rhymes and vivid illustrations bring life to a counting book that is fun for young learners!
Bundle it with a hand-sewn bunny here! 
What people are saying: 
"My little grandson LOVES Bunny Bath! At this sitting I read it to him 3 times. Later that day he requested his mommy read it several times before bedtime." Carol Grimm, teacher and grandmother

"Super cute and entertaining book for little ones! Lots of fun repeating words for speech development and fantastic illustrations!!! Love this book :)" Dayna Hughes, Speech Pathologist and teacher

"We love this book! Helps kids with counting and the kids love making all the silly sounds! Illustrations are wonderful too! We have read it so much, the kids almost know the words by heart!" Pamela Timlin, nurse and mother