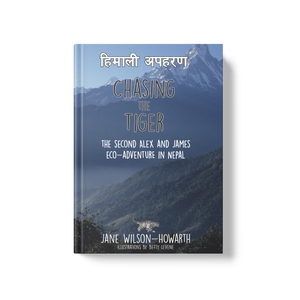 Chasing the Tiger: The Second Alex and James Eco-Adventure in Nepal (Book 2)
By Jane Wilson-Howarth, illustrated by Betty Levene
Book 2: (Follows Himalayan Kidnap)
How could everything have gone so horribly wrong?
Why aren't the police concerned? It is all down to 16-year-old Alex, his 12-year old brother James, and their feisty friend Bim. Armed thugs have captured the boys' parents and are taking them to a hideout high in the Himalayas. It seems only the three children have any chance of rescuing the adults
from ruthless terrorists who want to publicise their cause by threatening these innocent wildlife researchers.
But to get the parents free, the children have to cross two high mountain passes and flee from hungry predators.
Can they catch up in time?
 "I love the detailed descriptions and beautiful illustrations that bring the fascinating local animals to life – from black-naped hares to scorpions, bears to langurs. I would recommend this book to anyone who is interested in exotic wildlife and adventure stories with a difference."    Hazel, 11
"The characters are totally believable, for example twelve-year-old James is always eating, dreaming of food, farting or getting covered in animal poop!"   Arthur, 13
The Alex and James Eco-Aventures in Nepal Series: