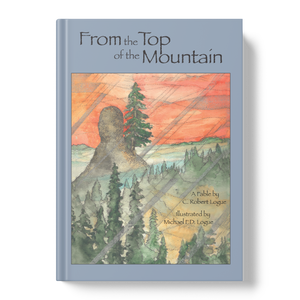 From the Top of the Mountain
Regular price $18.99 Sale
By Robert Logue
High in the mountains of New Hampshire, there once lived a great and powerful boulder who believed he didn't need anyone or anything.
Following years of unreciprocated kindness from a small Northern Pine, who set down her roots in the hard ground at his foot, he eventually begins to understand the rewards of empathy, giving, and gratitude.
A beautifully illustrated modern fable for all ages.
Responses to the book:
"My hope is that this magical fable will inspire you to get out of your own way, as well as to reach out and help someone else." Ken Blanchard, coauthor of The One Minute Manager ®

"My entire family spent yesterday morning (before we rolled out of bed ;)) reading your book. Everyone truly loved it!!! It is a really touching fable, and my older son loved that you and your brother worked on this together…maybe he'd like to do something like that with his brother!!!" Erin H.

"I read it, cover to cover, last night and I loved it - a great message for all of us and I will refer to it often." Pete N.
"It was my first thing in the morning, with a cup of coffee, reading! I loved it! Really beautiful – the story, the message, the illustrations! THANK YOU for sharing this with me! It will be on my own reflection list and on my special gift list!!" Barb T.