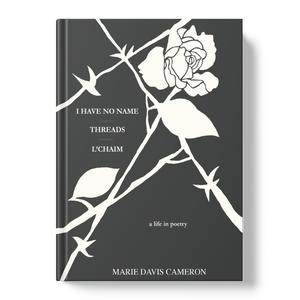 I HAVE NO NAME - THREADS - L'CHAIM. a life in poetry
Regular price $29.99 Sale
by Marie Davis Cameron (aka Maria Landowska)
In her 86 years, Marie Cameron has epitomized the term 'wandering Jew'. Along her path from Nazi Germany to Cape Breton, from Nova Scotia to the Panama Canal Zone, and across North America, Marie has shared conversations with Holocaust survivors, enjoyed a penpal correspondence with Robert Frost, dated Frank Lloyd Wright-trained architect Gregory Ain, marched with Martin Luther King, and had a decades-long friendship with Gerald Traprain, the sixth Earl of Balfour, who was one of the last sailors of the great cutter sailing ships.  
Her life has had a remarkable richness. Under the name Maria Landowska, I Have No Name was originally published in 1984 by Marymack Publishing and was considered for the Pulitzer Poetry Prize for that year. It is a compilation of many Holocaust stories told to her by survivors while in psychotherapy, which have been woven, along with her own memories of this time, into a more impactful epic poem.
Threads was originally published in 1985 by Nortex Press and was awarded the Eleventh Annual Nortex Award for poetry that year.
L'Chaim (To Life) is a new publication and the author's definitive work, sharing the shaping influences decade by decade until the reader realizes Cameron's "family" now encircles all segments of society and reaches out to infinity. In this, the final comprehensive collection of her poetry, she explores being an observer in this rapidly changing world.
Marie is remarkably active, spending her days in beautiful central Pennsylvania with family and still working to make the world a better place.

What people are saying: 

"When you meet Marie Cameron, you have no idea what you're in for. You think she's just the sweet neighbor next door, and then you find out she is a published poet, nominated for the Pulitzer Prize; you process that she escaped the Holocaust, but the rest of her family didn't; you wonder at her strength in providing psychotherapy to survivors of the Holocaust; you admire how she cares for and mentors an adult granddaughter with autism; and you find out she jumped off a tall building in a harness to raise money for those in need in her community.  You find out who YOU are, because she shows us the way, through her life and through her poetry, to be fully and truly human."     ~ Nancy Rose Chiswick
"When I first met Marie Cameron she told me about her amazing life.  In her modesty, she failed to mention that she wrote poetry.  When I read her poems they stunned me with their wisdom and beauty.

At the time, I was about to teach an OLLI course on Pennsylvania Poets.  I invited Marie to read for us.  She agreed and her poems delighted the class.  She is a treasure and so are her poems."  ~Thomazine Shanahan