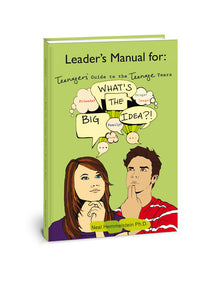 LEADERS' GUIDE TO What's the Big Idea? Teenager's Guide to the Teenage Years
Regular price $18.99 Sale
Leader Guide to assist in teaching the Teenage Guide materials in this book.
Teenagers appear to be another species. And they show up with no manual (either "operating" or "service"). Because I Said So! provides that missing document. This is not a "How-to" book as much as a guide to developing your family's own "how-to's." Each family has its own set of values, though we often share values that others hold. I have no interest in telling you what those values should be. I wish to share with you some of the guidelines I have discovered, observed, stumbled across, and learned the hard way during my work as a camp counselor, kindergarten teacher, teacher of adolescents in a psychiatric hospital, psychologist in a residential facility for children with behavioral, emotional, and mental health problems, school psychologist, and private practice psychologist working with children, teenagers, and families.
What's the Big Idea? provides teenagers with similar guidelines, not to parent, but to live and improve their self care. I define "Self Care" as: having a good time; gaining understanding on how the way you feel affects the way you act; understanding how the way you feel and act affects others; understanding how the way others feel and act affects you; and getting better at identifying and sharing how you feel with those who care so much about you.
All of us (parents and children) spend all of our time, attention, and energy trying to have things the way we want. The two primary sources of power towards having things the way we want: 1) Knowing how good (not "good at") we are; and 2) Keeping agreements with ourselves and others. Both books provide principles that enhance these power sources, support and encouragement to follow these principles and see for yourself.