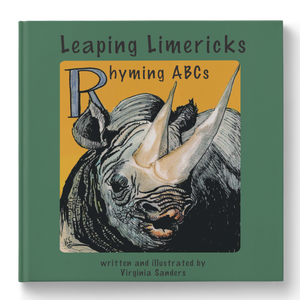 Leaping Limericks
Regular price $12.99 Sale
By Virginia Sanders
While limericks are a fun form of poetry, they are not often written with children in mind. This creative book of limericks from A to Z, with the creative illustrations by author and illustrator Virginia Sanders, brings to life 26 wonderful rhyming rhythms for kids of all ages.

From aardvarks to egrets, iguanas to koalas, and vipers to zebras, whimsical illustrations accompany the prose for a rhythmic journey through the animal kingdom.
Though trained as a high school mathematics teacher, Virginia Sanders always had a passion for drawing, painting, and cartooning. This, together with her abiding love for children and animals, gave the impulse for the creation of this book.
Her other passion was the protection of wildlife and the environment, and to that end she writes a regular column for her local newspaper addressing sea turtle conservation issues and edits and illustrates a piece called "The Marine Scene," emanating from Mote Marine Laboratory and Aquarium in Sarasota, Florida, where she was a long-time volunteer.

Over twenty years ago, due to the prodding of her late husband, Dr. Jack Sanders, she added photography to her artistic talents and received many honors, awards, and published pictures to her credit.
Virginia passed away a few years ago and is dearly missed.