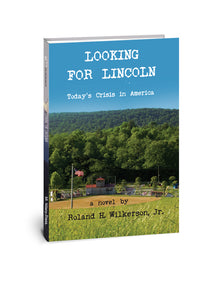 Looking for Lincoln
Regular price $18.99 Sale
By Ron Wilkerson
For young Tommy Wall from the shady little town of Mill Gate, Pennsylvania, America is baseball. Pinch hits and outs, best friends, an honest game, and the grass around the diamond make his world. But when Thomas Wall is forced to confront the reality in America around him as an adult, it is not so simple.

This is a controversial novel about the politics and culture reigning in the USA today. It will initiate discussions and debates on the historical decline of empires and the malady the USA currently finds itself in.
Roland H. Wilkerson, Jr., known as Ron to his friends and "Doc" to his students, has been a lifelong student and teacher of the meanings of history. He has lived in State College, Pennsylvania with is wife Doyle since 1969, and using the world as a tool of learning they have traveled hand in hand for nearly fifty summers. He was educated at the University of Dayton and Miami University, and earned a doctorate from the Pennsylvania State University. He is currently working on a review of contemporary American culture.