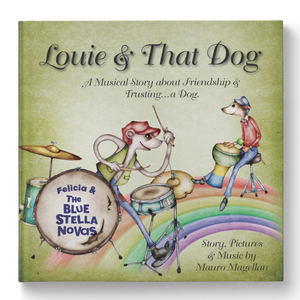 Louie & That Dog (book & music)
Regular price $18.99 Sale
By Mauro Magellan
Louie is a rat who got to join the cool cats in the band, Felicia and the Blue Stella Novas, after they gave him a chance even though he is a rat! Check out that story and music in Felicia and the Rat.
Now it is Louie's turn to get over his prejudices and give a dog a chance to prove himself as the band risks losing their home among the trashcans when the city starts to get cleaned up. 
Includes 10 original soundtracks for instant listening!  Just scan the codes and enjoy a musical rendition of the story!
"In the first book by Magellan, Felicia the Cat took a big chancy dare on Louie the Rat to play drums in her band along with Piano Cat Joe, Cindy the Squirrel, and Jet Ears Johnny. Felicia was not disappointed! In this second book, Magellan introduces us to Duncan the Dog, whom Louie was very afraid of at first. But as all the animals get to know each other and play music together, they become friends and accepting of their differences. A sweet story with lovely illustrations and a companion cd that is beautifully written and recorded by Magellan."                                     Laurie George, Nashville Artist
"With Louie and that Dog, Mauro Magellan uses great music and illustrations to paint a beautiful picture of how much can be accomplished when Felicia and the Blue Stella Novas overcome their mistrust and prejudice." 
~Stan Lynch, Drummer and Music Producer
Mauro Magellan is an illustrator, graphic artist, and musician who has written and illustrated adult and children's books. He is a songwriter and drummer, currently traveling all over the world with the popular Nashville-based band, Dan Baird and Homemade Sin. 
If you are not able to load the QR codes in the book, you can access (and download) all of the great soundtracks here!