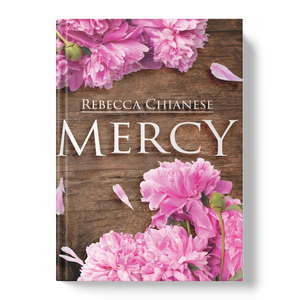 Mercy
Regular price $18.99 Sale
In the wake of her 49th birthday Carly has become a broke, divorced empty nester, no longer knowing her place in the glossy suburban bubble where she has carefully constructed a veneered existence. She thought she had left the uncertainty of a chaotic, drug-infused Brooklyn childhood behind her when she married and started a family, but as the life she built collapses with the demise of her marriage, Carly begins to experience a kaleidoscope of memories and emotions, as she continues to deal with the troubles of her family of origin while having to heal herself.

Mercy is the story of a second coming of age, in which our heroine faces her past and gets to the business of being strong on her own, hell bent on side stepping the constant upsets of her dysfunctional family. Her father, a has-been Broadway actor, is attempting to jump start his sagging career by starring in a reality television show while her brother is battling a heroine addiction. Her mother, still angry about her own divorce, has an uncanny ability to create drama of epic proportions wherever she goes.

Follow Carly as she falls in love on her own terms, learns to trust for the first time, experiences a sexual awakening, restarts a career, and attempts to pull off America's ultimate post nuclear family holiday: a hysterical and disastrous Thanksgiving dinner.

Inspired by the tragicomic business of living a life spanning a few decades and two bridges from Brooklyn to the suburbs, Mercy brings the grit of 1970's New York into spectacular collision with our high-gloss era of Houzz, Twitter, and reality TV.
new release April 1, 2021. Order here for pre-release copies
 Also by Rebecca Chianese:
What people are saying
As a writer I always love checking out debut novels. This one didn't disappoint, I really enjoyed this book. It's impossible not to love the main character and root for her success while relating to her struggles.
The writing is great. It's descriptive enough to put you in the place and time and it keeps you turning the pages for more.
Looking forward to the next book by this author.
~Candace M
I recommend this book for all women of all ages - you get to see not only what a woman in her 50's go through in a divorce - but through the stages of her life. You also learn about her mom and daughter's struggles and how each one of them handle their own problems. I knew that the author only wrote this one book - so I took my time relishing/enjoying as long as I could. Please hurry and write another book!
~Patricia C
There are few things better than finishing a book with a smile on your face, filled with the satisfaction of a wonderful read. Mercy, by Rebecca Chianese is such a book. It's a story that grabs your attention from page one with a great cast of characters, especially it's protagonist Carly who is so artfully depicted you will feel like you've known her a lifetime. Alternatively sassy, vulnerable, hilarious, courageous and scared, Carly is totally relatable and a character you will miss long after the book's end. So, if you want a great read and to "meet" a new best friend, settle into a cushy couch, pour yourself a glass of wine and dive into your copy of Mercy!
~JR 
Absolutely loved the book. Carly is one of those protagonists that makes you wish characters were real so that you can go out for cocktails with them.
~Jill
Love a book that makes me laugh, tear-up and anticipate. Mercy did all three.
From the first page I was hooked and couldn't stop reading.
Definitely will tell my friends to read this book! Loved it.
~Mary Ann P 
This book should top everyone's summer reading list. Soulful, thoughtful, entertaining and real!
~Patricia K 
Amazing book! I couldn't put the book down and was sad when it was over because I missed the main character so much!
~Leslee H 
From the moment I opened the book and met Carly, I knew this was a character I was going to love. Newly divorced and empty-nested, Carly must come to terms with a painful past, manage a crazy (and hysterically funny) extended family, decide if she is ready to embrace a love again and create a new life for herself. At times vulnerable, scared, angry yet deeply loving and surprisingly funny, I found myself rooting for Carly and wanting to be part of her journey. The author deftly weaves both humor and pain throughout Carly's story; I was laughing out loud one minute and tearing up the next. The characters of Carly's life are richly drawn and the memories of Carly's childhood, abandoned by her father and growing up poor in Brooklyn are vivid and moving. The scenes of her extended family, are hilarious and keep the story fun and entertaining. This is a story that anyone can find something to relate to. You will not want to say goodbye to Carly and her world when the book is over.
~Patricia G
From the first page of reading Mercy I knew I would enjoy this book.
The Author Rebecca Chianese has such a descriptive way of writing that made me feel as though I was watching a movie!
I enjoyed the main character Carly and would love to see a sequel to Mercy please!
~Coco
I loved this book. I was taken in on the first page. Vivid descriptions with characters you love, hate and cannot stop thinking about. Highly recommend!
~Margaret D
I loved this novel! It is not often that you find a narrator who is funny, badass, and incredibly tender in her dealings with herself and other characters. Mercy tells the story of a woman who moves between the grungy past of New York in the 1970s and 80s and the upscale expectations of her adult life as a recently divorced mother of two in the suburbs. The magic of the novel is riding along with her as she makes these two halves whole and in the process laughing and crying and wanting to both protect her and be protected by her fierce open heart.
Amazon Customer
Terrific Book! I wasn't sure what to expect, but I was very pleasantly surprised. The strength of this story is the writing, the characters and the insights into human behavior. I fell in love with the main character immediately. She's so well drawn that I thought of her as my friend by the end of the first chapter. I recommend this book and look forward to Chianese's next work. Keep writing, you have a wonderful voice!
~Jeff A 
I'm absolutely blown away...writing this review at 4:58am because I started reading this book and literally could not put it down. Riveting, witty, deep, sensitive, real, moving and incredibly visual as each page offers an unabashed truth that is refreshing and admirable.
You learn to love each character and the vibrant depiction the author portrays. Rich with too much to list here, so all I could suggest is, "Yes! Buy this novel. Read it! And perhaps think about blocking out enough time to do it in one fell swoop because you will not want to put it down!" Bravissima!
~Sarah 
Mercy grabbed my attention and held it through every page! I believed in those characters and felt their presence so strongly that I needed to keep reading to find out what happens next! Rebecca Chianese has a true skill for imagery and details that make it so simple to immerse yourself in Carly's world. A great read - funny and poignant and real. Don't miss out on discovering this new author!
~Amazon Customer
Mercy is enjoyable reading from page one. Carly, the protagonist tells the story of her recently divorced life which is both hilarious, sad and inspiring. You go back in time to Brooklyn, and meet her dysfunctional family and begin to understand Carly and her journey.
~Carol D
Mercy is a wonderful story, you can easily imagine the scenes and setting of the picturesque river villages of Sleepy Hollow and Tarrytown,NY. This new novelist will make you laugh and cry with compelling stories of childhood to present day. You can't put it down but won't want it to end, it's a must read!!
~Amazon Customer
This novel is deep, warm, often funny, believable, and compelling. A true page-turner. The characters are brilliantly delineated, the depiction of various socioeconomic worlds, and the social contexts, accurate and meaningful. The narrative voice is powerful and charming.
~Amazon customer