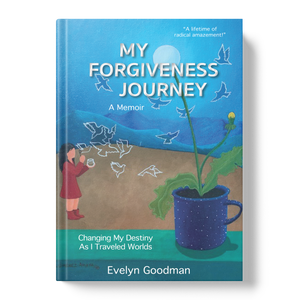 MY FORGIVENESS JOURNEY: Changing My Destiny As I Traveled Worlds, A Memoir
Regular price $18.99 Sale
by Evelyn Goodman
We are dealt a poker hand at birth, and in the game called life we play out our hand. Mine was one I would never have chosen. But destiny, being what it is, gives us no choice.

My travels took me as far from home as Tibet and as close to home as my heart.
This is the story of my journey from far to near, from hurt to healing, how reluctantly I took destiny head-on and much to my surprise, through forgiveness, changed its course.
I hope my story inspires others to do the same.
If I can do it, anyone can.
Eifrig Publishing is honored to be able to help share this inspiring story. 

If you are only ordering the ebook and get a shipping charge, enter code GOODMAN at checkout to have the shipping charge removed. Thanks!
Proceeds from the sale of the book will be donated to a non-profit dedicated to children's literacy, Random Acts of Reading, as requested by Evelyn. Every purchased book will make it possible to donate a children's book to an underserved child. Also, there are a few special photographs of Evelyn available (see above), and if you purchase a photograph you will also be facilitating a free book for a child. Donations to Random Acts of Reading in her name can also be made directly (and are tax deductible). Thank you!  

What people are saying:
Evelyn Goodman's memoir is a gift to the reader. Born to Jewish immigrants from Eastern Europe, Evelyn invites us to travel with her through a lifetime of radical amazement. Her memoir follows interwoven paths of her three different careers, her committed engagement with social justice, and to delight her senses and curiosity, her travels far and near. On her path of spiritual development and meditation, she experienced true freedom and forgiveness. When she visited the grave of her great-great-great grandfather, the Hasidic Master Rabbi Levi Yittzhak of Berditchev, she asked for his continued guidance. She had been receiving his guidance all her life, while she attentively followed her heart, along each step on her path.
                  ~ Rhoda Neshama Waller, Certified Sage-ing Leader
Evelyn Goodman gives us life as a pilgrimage, urged on equally by grit and wonder. Guided by spiritual beings past and present, she develops a splendid knack for divining the best, and forgiving the worst, in the all-too-human. If Evelyn does indeed one day enter her next life, she will certainly know what to do with it!            ~Paul Glovinsky, Ph.D.
 In this extraordinary memoir, Evelyn Goodman has woven history and memory, a very personal story of a divorced, heartbroken Mother's struggles, with an always woke awareness of the politics around her. Her memory is prodigious, encompassing anecdotes from her several careers, travel experiences, and love and loss. But it is especially her spiritual quest to forgive, taking her from India to the Upper West Side, which structures this journey towards freedom and serenity. ~Ronnie Scharfman, Ph.D
"Evelyn Goodman's memoir is a parable on forgiveness. In her bold storytelling, one discovers an intrepid alchemist determined to heal heartbreak and betrayal through love, wisdom, and wonder."  ~Kim Schneiderman, author of Step Out of Your Story: Writing Exercises to Reframe and Transform Your Life (New World Library, 2015)
This is not only a lively, charming memoir of secular and spiritual travel and adventure, with a gorgeous streak of mystic rapture. It is also the powerful account of a woman fighting for social justice and human rights on the one hand, and on the other hand struggling with the need to forgive the personally unforgivable. It will teach every reader valuable truths about hurt and healing.   ~Alicia Ostriker, New York State Poet Laureate, author of Waiting for the Light
I had known Evelyn since 1991, when we met at an ashram in India. Our connection was immediate. Over the years, we became closer and closer friends. In our conversations it often felt like sparks flew between us. When Evelyn called me in 2013 excited that she had started to write about her life, I offered to assist in typing up her handwritten notes and stories. Over the next seven years, we had nearly weekly phone calls, during which Evelyn read her latest writings, I typed, and we lovingly wrangled over words, punctuation, and edits.

Evelyn's memoir conveys the full depth and breadth of her journey. I believe her transparency was key to her healing and wholeness. The more she wrote, the more she found her true voice, rooted in conviction and clarity. Her writings help us see more of what is possible in the world, inside and out. When Evelyn was 91, even though her health had started to deteriorate, she made it a point to see places that she felt everyone should visit: the Civil Rights Museum in Memphis and the Civil Rights Memorial in Montgomery. She had wanted to write about this important trip in her memoir, but ran out of time. In her last month, Evelyn knew she had very little time and few moments of clarity left – and there were key edits she wanted to make. For one of the final edits, she added a sentence and emphasized that it would have an exclamation point. I double-checked. Evelyn replied enthusiastically, "Keep the exclamation point!" I realized this was the perfect metaphor for everything. It was Evelyn's dream to share this journey with the hope that perhaps it could inspire others. On her 92nd birthday, just two days before she passed, she was ecstatic to hold the first draft of the published book in her hands.
This magical moment is captured in the photo below and was brought about by the enormous effort of the publisher, Penny Eifrig, who made Evelyn's dream come true after a serendipitous connection made by two of Penny's authors who were dear friends of Evelyn's, Barbara Siesel and Keith Torgan. 
Evelyn's 40-year journey of forgiveness yielded liberation. Her freedom was hard-earned – she worked it from every angle – and it was filled with blessings. Evelyn's love of travel – which took her all over the world – was equaled only in her spirit of inner adventure. Evelyn spoke about death as her next journey...one without any baggage.
Her last word spoken was, "Perfect."
                                                    ~Jeff Elster