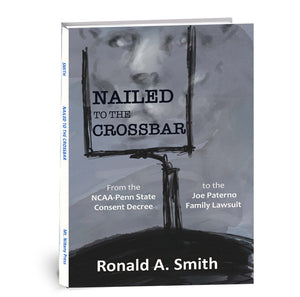 Nailed to the Crossbar: From the NCAA-Penn State Consent Decree to the Joe Paterno Family Lawsuit
Regular price $24.95 Sale
About the Book
Nailed to the Crossbar focuses on what the National Collegiate Athletic Association and its Consent Decree did to Penn State, cumulating in two lawsuits against the NCAA for illegally punishing Penn State and damaging coach Joe Paterno's legacy.
About the Author
Ronald A. Smith is professor emeritus at Penn State and distinguished sport historian, author of Wounded Lions: Joe Paterno, Jerry Sandusky, and the Crises in Penn State Athletics.
Book Comments
"Smith combines his knowledge as a higher ed insider with his distinguished record as a sport historian to show how and why the NCAA unjustly and illegally punished Penn State over the Sandusky scandal. But make no mistake—this is not an emotional diatribe, but rather a well-reasoned, evidence-based analysis of an important element of intercollegiate athletics governance. Smith's findings should be essential reading in the effort to redefine the NCAA's proper role as an oversight body, and to assess the legacy of Joe Paterno."   Michael Bezilla, author of Penn State: An Illustrated History
"Smith's 'Nailed to the Crossbar' is riveting, thought provoking, detailed, and courageous. He shows how, with Penn State lacking sound advice, the NCAA's Consent Decree wreaked havoc on the institution and its legacy."    Piet van Ogtrop, retired attorney
Release Date: September 2, 2018
Order here for pre-release copies!