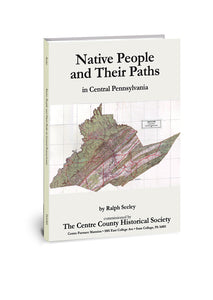 Native People and Their Paths in Central Pennsylvania
Regular price $19.99 Sale
By Ralph Seeley and the Centre County Historical Society
Please order directly from the Center County Historical Society via this LINK. 
Some people wonder about Indian paths. Others have never thought about them as they go about their daily lives. But for those who have wondered, this is written to show some of the accumulated knowledge, and dispel some myths. Since the natives in their time did not use written language, nor did they draw maps for us, our knowledge is necessarily limited. What we do know about their paths gives us some insight into the way of life of these forgotten walking people.
About the author:
Ralph Seeley's love of the wilderness dates back to his childhood in a small upstate New York village. After graduating from Duke University in 1952 and earning a Master's degree from the Pennsylvania State University in 1960, he settled in Centre County to become an Associate Professor of Engineering Research with Penn State's Applied Research Lab. Seeley retired in 1991.
He has long been active in maintaining hiking trails to keep them accessible to the public. Seeley has worked on trails in Bald Eagle, Rothrock, and Moshannon State Forests. His trail work in the Quehanna Wild Area led to the formation of the Quehanna Area Trail Club. In the late 1990s, he led efforts to create the Allegheny Front Trail, which was built collaboratively by Penn State Outing Club, Ridge & Valley Outings Clubs, Quehanna Area Trails Club, and the Keystone Trails Association.
The trail provides a wide variety of forest environments and surrounds Black Moshannon State Park. Seeley has been recognized for his work by the Pennsylvania Department of Conservation and Natural Resources, which named him the Volunteer of the Year in 1998. He initiated water company and land use planning in Half Moon Township of Centre County. He has also been awarded Penn State's Barash Award for Human Services and the President's Award from the Centre County Historical Society, of which he is a member of the Board of Governors. Seeley is the author of Foot Trails of the Moshannon and Southern Elk State Forests and Great Buffalo Swamp: A Trail Guide and Historical Record for the Quehanna Plateau and the Moshannon State Forest.