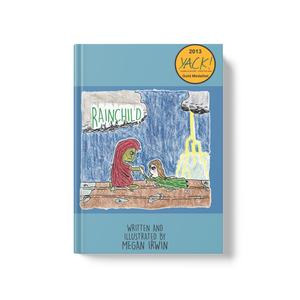 Rainchild (2013 YACK! Gold Medal Winner)
By Megan Irwin
When Amelia loses her family in a big storm, her life is saved by a kindly old goblin farmer. He takes her in and raises her as his own, and the two live together as father and daughter until war comes to their little village...
Meanwhile at the palace, young prince James doesn't want to grow up, and when his mother, the Queen, insists that he be married at once, he dreads choosing a wife. When news comes that the King has been kidnapped by goblins, James is eager for a distraction and rushes to the goblin base to demand his father's release.
In a tale of loyalty and identity, Amelia and James each must choose their side in this bitter war . . . before a choice is made for them.
Megan Irwin is the winner of the 2013 YACK! Young Author's contest and was a sixth grader at Bellefonte Middle School in Pennsylvania when she wrote and illustrated this story. She is also a talented singer, pianist, and actor, and is as passionate about music and acting as she is about writing and drawing.