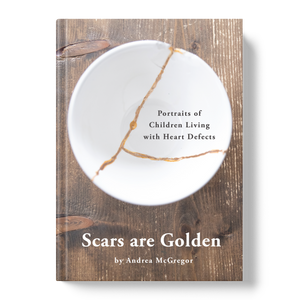 Scars are Golden: Portraits of Children Living with Heart Defects
Regular price $16.99 Sale
Photos and text by Andrea McGregor
We all have a story. None of us are perfect, and that is more than okay! There is so much beauty in our brokenness. Living in a fast-paced world, it can be hard sometimes to stop and see our "flaws" as a charming story. However, that is exactly what they are.
There is a Japanese art form called Kintsugi. It literally translates to "gold mending," and it emphasizes the beauty of the breaks and imperfections within pottery. Perfectly enough, this art form came together accidentally after a man dropped and broke his favorite tea bowl. The gold fusion of the pottery speaks volumes to the magic held in our imperfections.
The gold fusion of this pottery is strong. Much like the hearts of children born with Congenital Heart Defects. From day one, these kids fight. They fight for life and are called Heart Warriors for a reason. Their scars should be painted gold indefinitely because they tell a story filled with grace. They are a one-of-a-kind masterpiece, and much like Kintsugi, there is magic in their "brokenness." Except, they are not broken at all; they are perfectly put together.
Proceeds from the sale of this book benefit The Children's Heart Foundation (www.childrensheartfoundation.org)
Pre-order now to receive your copy before the official release date as soon as they come off the presses!