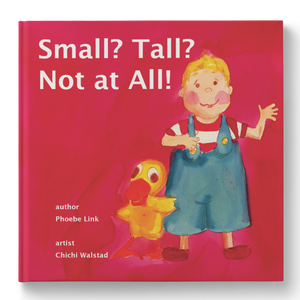 Small? Tall? Not at all!
Regular price $18.99 Sale
By Phoebe Link
Rhyming prose and 71 core sight words give early readers confidence as they sympathize with one small boy in a big world.
A complete vocabulary list is included. It seems as if everyone is looking down on him. "Am I really so small - not very tall?" he asks and discovers through an imaginative tale of possibilities that the answer really is: "Not at all!"
Phoebe Link was an author, poet, musician, and educator, inspiring elementary school children for over three decades. She shared her time between State College, PA and Bar Harbor, MA. Throughout her active life, Phoebe enjoyed sailing and skiing and sharing her love of life with children.
She received the highest award from the College of Education at Penn State University known as the "Excellence in Education Award" for extraordinary contribution to education.
Her biography is included in Marquis Who's Who in American Education and Who's Who among American Women.
We lost a friend when Phoebe passed away in 2013. Her memory goes on with the books she has written.
"For decades, Phoebe has been an inspirational teacher with a knack for knowing what motivates children of all sizes."
Dr. Patricia Best, Former Superintendent of Schools, State College, PA
"I applaud the return of this classic story after over a quarter century. The wonderful humor and rhymes in this book make it especially appealing."
John N. Forrest, Jr., MD, Professor of Medicine, Yale University