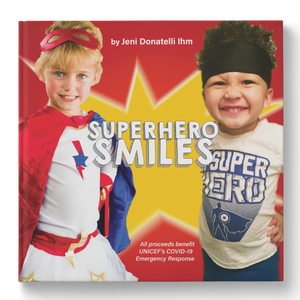 Superhero Smiles: Celebrating the Pandemic Heroes
Regular price $12.99 Sale
by Jeni Donatelli Ihm
By purchasing this book, you are supporting the work of UNICEF in the global fight against the Coronavirus. THANK YOU. All proceeds will be donated.
This book is filled with photos of kids just like you! All around the world, kids are dealing with a new and sometimes scary situation, where things aren't as simple as they used to be. Schools are closed, parents are working from home, or maybe are out of work or still out in public doing essential jobs. All of this can be frightening. But kids can help make things easier too...by smiling!
Enjoy the smiles shared in this book: from kids across the  USA, as well as some smiles from kids from around the world  who have found refuge from conflict;  smiles from doctors and nurses, some of whom have survived COVID-19 and are back helping others get through it; smiles from kids finding new ways to learn and to celebrate their milestones.
Inspired by Jeni's son, who was born with a cleft lip and palate, Superhero Smiles is to remind children that along with all of the essential workers during the COVID-19 crisis,  they too are the unsung heroes of this pandemic. Superhero Smiles is one small gesture to say thank you to everyone who is staying positive and doing what they can to help us get through this crisis...the teachers, the doctors and nurses, the grocery clerks, sanitation workers, delivery crews...and the kids who are adapting to a completely new situation. So keep on smiling and sharing your love and appreciation in new ways,  even when that means temporarily hiding your smile under a mask when you  go out.
We'd love to see your smiles to add to the ones in this book. Please post on social media and tag @eifrigpublishing (thus granting permission to share).
If you order a paperback, you will receive a free eBook to tide you over until the printer is back up to full speed. Books should ship in 3-4 weeks.
Enjoy a video of the author sharing her book here!
 A Note from the Publisher
This book was created to raise spirits while raising funds during this COVID-19 pandemic. Paperbacks are available at Eifrig Publishing with all proceeds benefitting UNICEF's COVID-19 Relief Response. You can also pick up ANY of Eifrig Publishing's children's eBooks for free (or at a price you pick), along with many other free resources from our authors!
These are trying times, but going forward we hope that acts of kindness, generosity, friendship, and caring become the new foundations of the post-pandemic world.

To help kids through these times, please also enjoy this brief video with a fun and effective tool for helping you feel better when you might be sad, anxious, or stressed out. EFT Tapping might look a little bit funny (and might make you smile!) when you first try it, but it s a great mindfulness and wellness tool that we could all benefit from! So check out the video by Brad Yates below (and to learn more about EFT Tapping for kids, you can pick up a free copy of his book, A Garden of Emotions: Cultivating Peace through EFT Tapping at Eifrig Publishing as well
Stay healthy and keep on smiling!       
Penny Eifrig