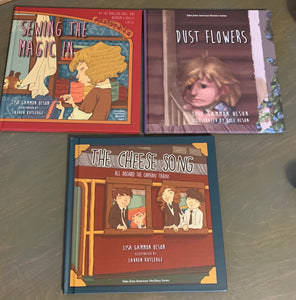 Tales from American HerStory bundle
Regular price $45.00 $35.00 Sale
This is a great way to give a kid a series of great books that feature a girl's perspective of an historical period in America. The series currently includes:
In THE CHEESE SONG, three orphans start out on a frightening new adventure by train to the midwest to find new families, the plight of over 250,000 kids at the turn of the century.
DUST FLOWERS provide a drop of hope in the depressed times of the Dust Bowl Era, when a little girl nurtures a tiny plant with the scarce wastewater to bring a smile to her exhausted mother's face.
SEWING THE MAGIC IN provides an inside look at the magic of the Ringling Bros. and Barnum & Bailey Circus. 
Get the whole hardcover series at a discounted price!