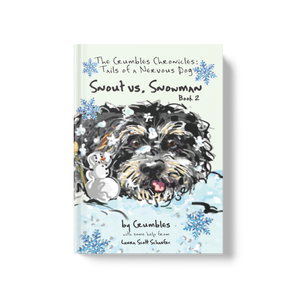 The Crumbles Chronicles: Snout vs. Snowman
Narrated by Crumbles himself, Snout vs. Snowman takes kids on another adventure with this nervous rescue pup. This time, Crumbles must defeat the evil snowman army before they freeze all of his humans and turn them into snow humans too! Filled with humor, teamwork and crisis management, Book 2 brings back familiar characters and introduces a few new ones. You will get to know Rodie, Crumbles' new bumbling but good-hearted brother, and Bagel, the dog obsessed with playing who has peculiar eating habits. Of course, Crumbles shares more of his Crumbles Code Rules, such as "Don't startle me. I pee" and "I drink warm bathwater. Don't judge." Can this nervous rescue save his humans from a frozen fate? Will he ever realize what it means to have a brother? Bark along with Crumbles to find out! And remember, anyone can be a hero.
All of the characters in this book can actually be found in either Author Laura's house, neighborhood or through a close connection. Napoleon really lives down the street (with no tail), Bagel truly needs his food hidden before he will eat it and Whisper really does have an aura of wisdom in his demeanor. Most (including rabbit Acorn) are real rescue pets and have their own clear quirks.The juxtaposition of their different personalities helped create the funny plot lines and banter that kids enjoy. And if they could talk, the author feels confident that this book closely depicts what they would be saying and how they would relate to each other.
Crumbles joined Author Laura's family in 2012 as an approximately 1-year-old shaggy mess. It was love at first sight. Crumbles joined the author's two children, "Mason" and "Lily," and their small zoo at home, including bunnies Whisper and Acorn. Rodie joined the crew about a year later as Crumby's brother, when "Kate" and her dad (aka the "dad human") became official members of Crumbles' human pack. A real blended family right down to the dogs!
When writing the series, AuthorLaura sought to convey a "love me as I am" message told in a humorous way. She hopes that Crumbles and his crew would find that pawsome.
Perfect beginning chapter book!

Review:
"Crumbles Chronicles is an adorable and fun tale about perseverance, optimism, staying in the moment, and the importance of appreciating and using all of our traits and characteristics and seeing them as gifts. Kids will learn that a hero lies in all of us." --Dr. Kristy M Vanacore, Child Psychologist

Press:
Briarcliff Daily Voice, 12.5.14
It's All About the Snout! Video
The Crumbles Chronicles:
Other books by Laura Scott Schaefer: