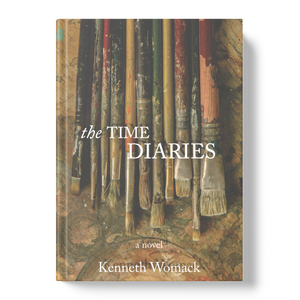 The Time Diaries
Regular price $18.99 Sale
by Kenneth Womack 
The Time Diaries narrates a pair of love stories separated by a century and an ocean, yet bound together by the power of fine art as a means for elevating the human condition.
The Time Diaries tells the parallel stories of Mary Cassatt, the renowned American Impressionist artist, and Judy Coker, a contemporary graduate student in Art History at the University of Chicago. In the novel, Judy wins a summer "Genius Award" that launches her on a global journey in search of a lost painting by Cassatt. She is accompanied on her quest by Noah Dearing, a fellow graduate student for whom she nurses a not-so-secret crush. For Judy, the adventure is fraught with trials and tribulations, particularly because of her devastating bout with Stendhal Syndrome, the psychological disorder that plunges her into a state of catatonia whenever she encounters the aesthetic power and beauty of art.
Meanwhile, Cassatt finds herself in a nearly lifelong struggle between her romantic feelings for Edgar Degas, Impressionism's grand master, and her abiding belief in the importance of maintaining personal freedom in order to fulfill her destiny both as an artist and as a woman living in the latter half of the nineteenth century. Based on the true story of a Cassatt painting that has been lost to the ages, The Time Diaries celebrates love and art's enduring capacity for both enriching and transforming our lives.
 RELEASE DATE: May 22, 2021 (Mary Cassatt Day!)
Kenneth Womack is the author of four previous novels, John Doe No. 2 and the Dreamland Motel, The Restaurant at the End of the World, Playing the Angel, and I Am Lemonade Lucy! He has also written numerous books about the Beatles, including Long and Winding Roads: The Evolving Artistry of the Beatles, The Beatles Encyclopedia: Everything Fab Four, Solid State: The Story of Abbey Road and the End of the Beatles, and an acclaimed two-volume biography about the life of Beatles producer George Martin. He is Professor of English and Popular Music at Monmouth University. He lives in West Long Branch, New Jersey, with his wife Jeanine.