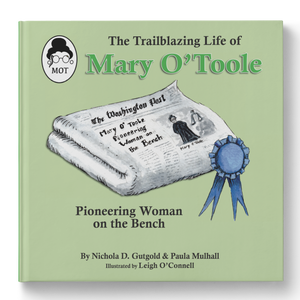 The Trailblazing Life of Mary O'Toole: Pioneering Woman on the Bench
Regular price $18.99 Sale
by Nichola D. Gutgold and Paula Mulhall
 When Mary O'Toole was a girl in County Carlow, Ireland, she dreamed of life beyond her small town. To make her dreams come true, she worked hard. She took on small jobs, such as mending clothing and doing errands for her neighbors. She saved every penny she earned. At age 16, all of her hard work and saving paid off when she left Ireland and sailed to America!
In America, she continued to work hard, trying to make her life better and learning new things, including stenography (writing for law). She was the top student in her class and was offered a position as a stenographer for Judge Monroe Wheeler.
Mary O'Toole moved to Washington, D.C., and while working full time she started law school. Mary opened her own law office and became the first female Municipal Court Judge in the US. Her seal of office had to have the words "his" crossed out in pen to be replaced with the words "hers." She was first appointed Judge of the Municipal Court of Washington, D.C., by President Harding in 1921. She was one of only three women judges in the United States at the time. Mary O'Toole dreamed a dream beyond her small town, and through hard work she made that dream come true!
 Upcoming events!
Saturday, March 25: The Parkland Library, Allentown, PA, children's reading and coloring activity

Saturday, April 1: Webster's Bookstore Cafe, State College, PA, meet the author Paula Mulhall for a discussion and children's reading