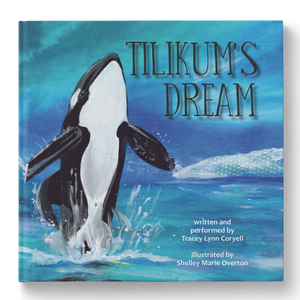 Tilikum's Dream (book and soundtrack)
Regular price $18.99 Sale
Sadly, Tilikum died on January 6, 2017. But the fight to free other wonderful sea animals like Tilikum is long from over. Tilikum lived in a cement pool since he was about two, when he was ripped from his mother's side off the coast of Iceland in 1983. Tracey Lynn Coryell joins the Blue Freedom movement to free orcas like Tilikum, and other gorgeous and intelligent sea animals, with this book and music by singer-songwriter Tracey, accompanied by legendary jazz guitarist Larry Coryell. Tilikum's Dream adds one more voice to the Blue Freedom campaign to give "a voice to the voiceless whales and dolphins who have been captured and forced into a life of captivity, where they are made to endlessly perform tricks or cooperate with swim programs for the profit of marine parks." (www.bluefreedom.org)
This beautifully illustrated book is accompanied by a musical soundtrack written and performed by Tracey Lynn Coryell on vocals and her husband, legendary jazz guitarist, Larry Coryell, on guitar.
Download the music here.
Proceeds from the sale of Tilikum's Dream support the activities of Blue Freedom.
For more information about the Free Tilly Campaign and Blue Freedom, visit www.bluefreedom.org.
REVIEWS:
Protect the Oceans, Jan 7, 2017 (one day after Tilikum's death)