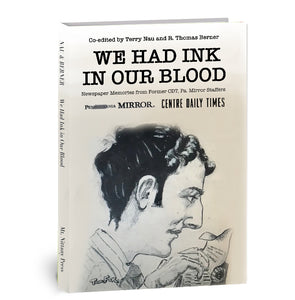 We Had Ink In Our Blood: Newspaper Memories from Former CDT, Pa. Mirror Staffers
Regular price $18.99 Sale
Edited by Terry Nau and Tom Berner
We Had Ink In Our Blood is a collection of memoirs by former reporters and editors of two Central Pennsylvania newspapers, the Pennsylvania Mirror and the Centre Daily Times, who battled for the same readers between 1968-77. This book describes the birth and death of the Mirror.
We hear from two children of the rival newsroom executives, Paul Houck and Jerry Weinstein, who describe their fathers' ambitions and personal dreams. Tom Berner tells the story of the Mirror's very first issue in 1968, which did not get off the press until the wee hours of the morning. Reporter Robert Emmers describes working for the CDT and the Mirror, noting the differences between the two newsrooms and their approach to stories. Chris Koll, a Penn State wrestler, writes about moonlighting as a part-time sportswriter for the Mirror. CDT sports columnist Ron Bracken details the personal side of his career and competing against the Mirror, which put an emphasis on sports coverage during its brief existence. Throughout the book there is a common theme that portrays a love of newspapers and the exciting things that can happen inside a newsroom. We can almost hear the typewriters clacking away, and the teletype machines chirping with bells as important news comes across the wire. All of the reporters and editors look back with fondness on this part of their lives when they were young and chasing stories across Centre County and beyond.
We Had Ink In Our Blood is a sentimental story of a time when newspapers, even in small towns, were the main source of news, long before the Internet came along.
TERRY NAU Terry Nau graduated from Penn State in 1972 with a Bachelor of Arts degree in journalism. He spent the next 40 years working as a newspaper sports editor before retiring in 2012. Since then, this Vietnam War veteran has self-published five books on that controversial war.
TOM BERNER R Thomas Berner is a freelance writer and photographer based in Centre County, Pennsylvania. He is a professor emeritus of journalism and American studies at The Pennsylvania State University and a Navy veteran.
In the news: