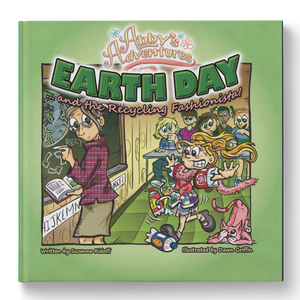 Abby's Adventures - Earth Day...and the Recycling Fashionista
Regular price $18.99 Sale
by Suzanne Ridolfi, illustrated by Dawn Griffin
It is time for the Earth Day celebration, and it seems like all of Abby's great ideas keep turning into chaos. Join Abby as she learns about the real process of turning plastic bottles into clothing and stuns the class with her Earth Day project, while also learning an important lesson of persevering, even when being mocked for her efforts.
This book is a wonderful teaching tool for schools working on recycling /environmental units, with a truly tangible tale of what every child can do to improve the planet.
This beautiful book is printed on FSC-certified coated 60% recycled PCW paper, which means it is saving trees and will last for generations!
REVIEWS:
What people are saying about it:
"Earth Day is a deliciously fun and educational book that reminds kids they are the gatekeepers for keeping our planet healthy!" Jess Weiner, author & self-esteem expert

"This book is a fresh new approach to the environmental challenges facing humankind. It makes big important ideas like recycling tangible for kids and shows you can be fashion-conscious and earth-conscious at the same time. This was especially important to my 7-year old daughter. Caring is cool again!" Erik Foley, Director of the Penn State Campus Sustainability Office