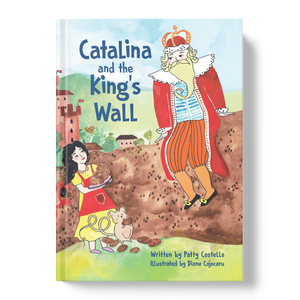 Catalina and the King's Wall
Regular price $12.99 Sale
When Catalina overhears the king planning to build a wall, she fears her family won't ever be able to visit. Catalina tricks the king into building walls that droop, drip, swirl, and swoosh away. But now the king demands an impenetrable wall. Luckily, Catalina has the perfect ingredients to bake up a family reunion!   
Idaho author Patty Costello shares this beautiful and timely story to initiate conversations with kids about issues of inclusivity and compassion.
What people are saying:
Midwest Book Review (April 2018):
"Catalina and the King's Wall" is a delightful new/old tale about a creative solution to fear of differences. "In a not so faraway kingdom," Catalina was a skilled baker for the King who loved all her cookies. The King was childish and very whimsical, and difficult to please. He decided for no reason to build a wall between his kingdom and the nearby kingdom, which frightened Catalina, because her family lived there. Catalina decided to suggest to the King to have the wall built of her favorite icing. Of course, it melted when the rain came. When the king ordered a new wall to be built, Catalina suggested a wall built of her father's favorite sprinkles, (which blew away in the wind). Ordered to build another wall, Catalina came up with her best idea so far: A gigantic wall of cookie dough! This wall did not melt in the rain or blow away in the wind. But Catalina, knowing the king's weakness for her cookies, slyly suggested that he take a nibble of the wall. Because of his gluttony, the king could not stop himself until he had eaten every single bite of the giant cookie dough wall. He lay down and burped a giant burp, while Catalina happily met her family with hugs and a fresh batch of her favorite cookies, saying "That's the way the cookie crumbles!" Delicious, edible looking illustrations with sly images of little Russian nesting dolls decorate the pages of this modern fable of "Catalina and the King's Wall," a homily warning against greed and separatism that speaks to today's children and adults as well."
Foreword Reviews, (May-June 2018):
"When a foolish king decides to build a wall to keep people from a neighboring kingdom away, his royal baker dreams up a delicious solution. Catalina is a lighthearted parody full of colorful confections. Innovative artwork in a riot of watercolor shades depicts the crafty baker as she whips up gobs of dough, gallons of icing, and miles of rainbow sprinkles, outsmarting the king just in time for a visit from her family one kingdom over."
Tonia Bock, PhD in Developmental and Educational Psychology Professor of Psychology, University of St. Thomas, St. Paul, MN:
"In a not so faraway kingdom, not so long ago ... Catalina overheard the king say, I do not like the people in the nearby kingdom. They are different. I must build a wall to keep them out! Oh no, Catalina said .... I have got to do something! And so begins the story of Catalina s clever plotting (and the king s own undoing) to prevent him from building a wall that would separate Catalina from her family who lives in the nearby kingdom. Does the king s rant and Catalina s worry sound all too familiar? It should. The story s premise parallels political rhetoric and anxieties in the U.S. today. Though Catalina and the King s Wall draws from current politics, the story transcends time and place. It is an excellent tale that can spark important conversations and lessons of several virtues (and vices) common across eras, location, and cultures. Catalina illustrates the virtues of love, hard work, perseverance, and resourcefulness, while the king displays the vices of bias, self-indulgence, and hot-temperedness. And as all good stories of prosocial lessons portray, the virtuous flourish in the end, while those with vices suffer the consequences of their thoughtless, selfish failings. Catalina is a talented baker in the story, so in the spirit of this theme, the book s illustrations are the icing on the cake. The pictures on each page are as colorful as the characters personalities are, with very little white space existing in the pen and watercolor illustrations. The thoughtfulness of details in the setting on each page (e.g., the ornate frame of the king s mirror) is incredibly eye-catching. Best of all, Catalina s baked goods made from her love and hard work are beautifully depicted on each and every page. I highly recommend this book for all progressive parents."
Carrie:
"Touching story about a sweet girl's attempts to stop the king from building a wall between her community and that of her family.  As a baker, she convinces the king to use her sweet treats to form the wall, but none can withstand mother nature or the king's greedy ways and she's able to see her family again. Great conversation starter for families about why someone would want to keep two communities apart and how brave Catalina was for standing up for what she believed in." 
About Patty Costello:
Patty lives in Boise, Idaho with her husband, a zany awesome toddler, a dog named Pippa, and a dog named Spencer. She grew up in the Twin Cities and is a Minnesotan at heart (you betcha!). She has a PhD in Neuroscience from the University of Minnesota and works in higher education. Catalina and the King's Wall is her first book and is published by Eifrig Publishing. At all hours of the day (and night) she can be found standing at her desk, helping her university run smoothly and working on her next children's book. For fun, she likes to trail run, mountain bike, cross country ski, and hike. She is also a voracious volunteer for various local organizations.