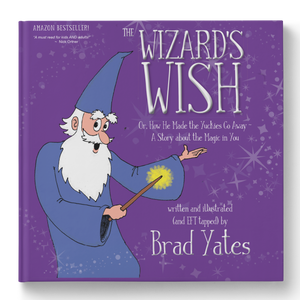 The Wizard's Wish
Regular price $19.99 Sale
by Brad Yates
After a terrible storm, the people of a normally peaceful village find themselves unusually out of sorts. They feel more angry, sad, and scared—and find life more difficult—even in school and sports!
But a kindly wizard discovers a secret that helps them feel even better than before—one they can use themselves—and so can you!!
Children (and their parents/teachers) can learn a safe, simple way to deal with uncomfortable emotions in the brightly illustrated The Wizard's Wish. The solution is right at your fingertips! By tapping points on your body, a process done in the clinically proven Emotion Freedom Technique (EFT), together with guided responses, the wizard demonstrates how you can feel better in minutes! EFT practitioner Brad Yates has created a book that is both fun and incredibly helpful!
Using QR code technology, you can download instructional and sample videos by Brad for instant access to the magical tool of EFT!
Get tapping!
 Also by Brad Yates: A Garden of Emotions--Cultivating Peace through EFT Tapping
BUY BOTH BOOKS AND GET FREE SHIPPING USING CODE "YATES" AT CHECKOUT!
"The Wizard's Wish is a fun, entertaining and educational book that can have a profound impact on the lives of children around the world. Brad Yates has masterfully woven a great story with important content. A must read for kids AND adults!" ~ Nick Ortner, Executive Producer, The Tapping Solution
"Beautifully written and illustrated, every child should have access to this book. I absolutely loved it!"     ~ Mary Sise, author of The Energy of Belief