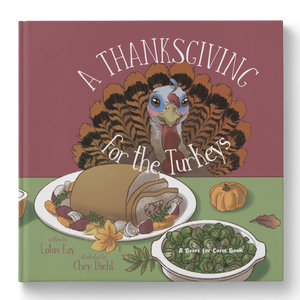 Bears for Cares Series: A Thanksgiving for the Turkeys
Regular price $18.99 Sale
by Lotus Kay
What does a turkey think right before Thanksgiving?
This book tells the story of Milo the turkey as he tries to navigate "Turkey Day." Milo will make you want to stretch your heart out to animals this year. 
Lotus wrote her first children's book,  More Beautiful Than Heaven,  when she was 16 to raise awareness about the beauty of nature and the Earth, the endangered state of wildlife and our environment, and ultimately inspire children to care for and protect the planet and our fellow inhabitants. She then wrote Billie the Octopus to educate kids about the beauty and importance of the ocean and protecting fish and marine life.
In 2020, she published two more books supporting efforts to save our planet and its endangered inhabitants: Jenny the Chimpanzee and A Thanksgiving for the Turkeys
All books have stuffed animals that are characters in the book that can be found at the Bears for Cares website, which support the Roots & Shoots program.
For more information on the Bears for Cares campaign or to purchase the stuffed toys that accompany this book, visit www.bearsforcares.com.
These books are printed in the USA on recycled, acid-free paper.
A portion of the proceeds from all books will be donated to the Jane Goodall Institute and its Roots & Shoots program.
 WHAT PEOPLE ARE SAYING:
  "I received Lotus's books and loved them! Well done! Thank you! With people like Lotus so aware and inspirational, I'm sure humanity can rise to the challenges we face."

— Louie Psihoyos, Director of Racing Extinction, Executive Director Oceanic Preservation Society
About the Author
Lotus Kay is a youth writer, singer/songwriter and children's book author. Her writings have been published in various publications such as Thrive Global, Kindness Magazine, New Leaves, Light of Consciousness, and Voya: Voice of Youth Advocates. She is a recipient of a grant from Jane Goodall's Roots and Shoots program for her work creating an educational campaign calledBears for Cares to educate youth about endangered species and wildlife. She wrote her first book, More Beautiful Than Heaven, when she was just 16, and has continued to write more impactful children's books: Billie the Octopus, A Thanksgiving for the Turkeys, Jenny the Chimpanzee, and Friends Lift You Up, all in collaboration with Bears for Cares, to educate kids on the importance and beauty of nature and motivate them to help protect the Earth and create a more compassionate world. Visit Lotus' website at www.lotuskay.com.
 About Bears for Cares
On Endangered Species Day, Lotus Kay and her sister Jazmin launched Bears for Cares to help children around the world understand the state of wildlife and endangered species by providing educational children's books and accompanying stuffed animals themed with creating a more compassionate world.  Bears for Cares is proud to be a project of Jane Goodall's youth education program Roots & Shoots.  Bears for Cares  donates a portions of its proceeds to the Jane Goodall Institute and her Roots & Shoots program to help support other young people passionate about helping our wildlife and planet.  For more information, visit www.bearsforcares.com.
About the Artist
Chey Diehl is an illustrator who started drawing by copying pictures of anime in kindergarten. For a long ti me anime heavily influenced her style until she was able to attend her dream school, Savannah College of Art and Design, and develop her own style. She graduated Summa Cum Laude in June 2016 with a Bachelor of Fine Arts in Illustration. Currently, Chey is an active member of the Society of Children's Book Writers & Illustrators. Check out www.CheyDiehl.com for her portfolio.