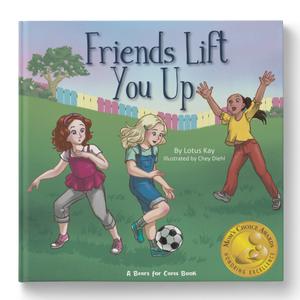 Friends Lift You Up
Regular price $18.99 Sale
by Lotus Kay
April and Tyla are best friends but sometimes they don't treat each other that way.
Learn about what it means to be a good friend, how to prevent bullying, and how to be kind.
About the author
Lotus Kay is a youth writer, singer/songwriter and children's book author. Her writings have been published in various publications such as Thrive Global, Kindness Magazine, New Leaves, Light of Consciousness, and Voya: Voice of Youth Advocates. She is a recipient of a grant from Jane Goodall's Roots and Shoots program for her work creating an educational campaign calledBears for Cares to educate youth about endangered species and wildlife. She wrote her first book, More Beautiful Than Heaven, when she was just 16, and has continued to write more impactful children's books: Billie the Octopus, A Thanksgiving for the Turkeys, Jenny the Chimpanzee, and Friends Lift You Up, all in collaboration with Bears for Cares, to educate kids on the importance and beauty of nature and motivate them to help protect the Earth and create a more compassionate world. Visit Lotus' website at www.lotuskay.com.
About Bears for Cares
On Endangered Species Day, Lotus Kay and her sister Jazmin launched Bears for Cares to help children around the world understand the state of wildlife and endangered species by providing educational children's books and accompanying stuffed animals themed with creating a more compassionate world.  Bears for Cares is proud to be a project of Jane Goodall's youth education program Roots & Shoots.  Bears for Cares  donates a portions of its proceeds to the Jane Goodall Institute and her Roots & Shoots program to help support other young people passionate about helping our wildlife and planet.  For more information, visit www.bearsforcares.com.