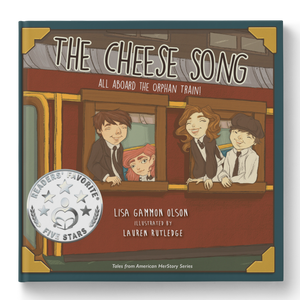 The Cheese Song: All Aboard the Orphan Train!
Regular price $12.99 Sale
The two girls watch each other across the crowded train car with intense interest. One holds tight to her little brother and the other clutches a mysterious basket. An unexpected secret will bind the two girls together, but dare they hope to find an adoptive family that will keep them together?
Join Libby and Josie as they journey on one of the infamous orphan trains in 1896 from New York City to the Midwest in search of a forever family and a piece of the American dream.
Part of the Tales from American HerStory series featuring female protagonists, this book shares the story of one little girl, who, like a quarter million young American orphans at the end of the 19th century, traveled west in hopes of finding a new family.
BOOKS BY LISA GAMMON OLSON
Dust Flowers / Sewing the Magic In / The Cheese Song / Remembering Green / And the Trees Began to Move / River of Light / Fig Newton Summer